Garmin Forerunner 265 Price in India
It has been few months now that we been started to see buzz for next model of Garmin smartwatch Forerunner in India which is Garmin Forerunner 265. There have been few leaks but not much authentic came out till now but it seems there is more credence with the leak of Garmin Forerunner 265 on Twitter which gave few details on the features list of Garmin Forerunner 265 as well. As per this leak, for online buying Garmin Forerunner 265 price in India is expected to be around Rs. 42,500 ($499.99). If this leaked price information of Garmin Forerunner 265 turns out to be real than it means the current model with be around $100 costlier than Forerunner model 255 which is already there at online price of Rs. 37,400 for online buying.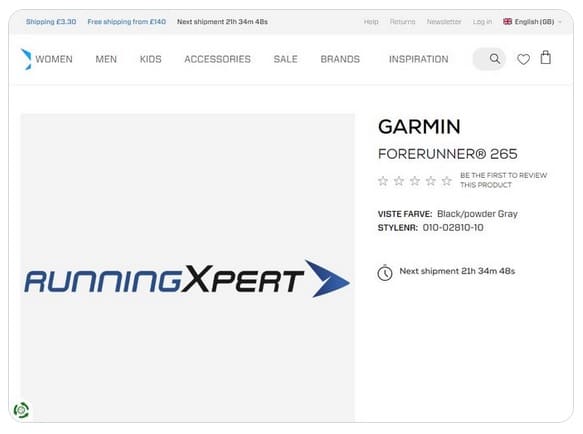 Coming to the features details, Garmin Forerunner 265 leak on Twitter have given some hints but one shall be careful as the image shared there is from online retailer. If the Garmin Forerunner 265 smartwatch is already listed on retailer, it is but difficult to understand why the leaker has hidden the identity of the source. In Indian market, launch of Garmin Forerunner 265 is expected in coming months of 2023 though it may hit in some countries in coming weeks only.
Anyways if we go by the leaked image of Garmin Forerunner 265 shared than one can expect features of both standard model as well as music verison available in the 265 model as there will not be Garmin Forerunner 265 Music variant like 255 one here. The model is expected to be GPS running and also with Wi-Fi connectivity.
Also there is indication given for the color option for Garmin Forerunner 265 which are as follows:
Black / Power Gray
White stone / Tidal blue
Aqua / Black
It means the smartwatch will have 3 color options one can choose from. Give that it will be at slightly higher price level than 255, certainly there will be important upgrades in the Garmin Forerunner 265 features list. In Indian market this price range is more in the high end segment. Meanwhile keep reading review of Garmin Forerunner smartwatch 265 for better understanding.